Regular price
$317.60 USD
Regular price
$397.00 USD
Sale price
$317.60 USD
Unit price
per
Sale
Sold out
34 in stock, shipping now!
Free shipping available within the lower 48!
Bundle With a Shock/Fork and Save $$$

Bikes have gotten expensive and we know you have to work hard to build these things.

Buy a link and shock or fork, save 50% on the link
Buy a link and shock and fork, save 100% on the link.

Click here to learn more and shop the EXT shock selection!
Please read this whole page to be sure you know what you are getting into because this setup is wild!
After all the positive feedback on the long shock kit for the Turbo Levo, we have developed a long shock kit for the Santa Cruz Heckler. This kit contains an upper and lower link, which allow running a 230mm eye-to-eye shock with up to a 65mm stroke. The end result of this is 160mm of travel with an average leverage ratio that is 11% lower than with the stock set up. We always get asked why we don't design links with lower leverage ratios. It's because you need a longer shock stroke to do it right and often times there isn't the room to do it. Fortunately here there is. 

This link is potentially our most dramatic to date. To be clear, we intend for this to be used with a coil shock because it is VERY progressive. How progressive? Over full travel 48%. Comparing it to stock, over the first 55mm of shock stroke it is slightly more progressive. The extra 10mm of shock stroke is largely why it is as progressive as it is. But because of how progressive this link is, we definitely recommend running a shock that is more linear in nature with this. Would we go as far as to say it's coil only? Not necessarily, but most riders will never find bottom if they run an air shock on this. 
How this much progression affects damping is likely something a lot of you are wondering. We believe there's a bit of a misconception that more progression means it's harder to tune damping. What we have found in our testing is that rapid changes in leverage ratio over short amounts of shock stroke (leverage curves with big dips or sudden flattening) is really what makes tuning harder. This leverage curve is pretty much a line so it behaves predictably. The feel that becomes more prominent as progression increases this much is lighter damping at top of travel ramping up to stiffer damping at bottom of travel. This ramp is over full travel. It does not suddenly transition from soft to stiff. Depending on how you like your bike set up, this can be quite nice as it lets the wheel rise out of holes it has dropped into easier but does extra work to keep the shock off the bottom as it gets deeper in travel. Rebound speed is also more consistent between top and bottom of travel. Almost like how bypass shocks in the off road world try to work...
SHOCK COMPATIBILITY! Please read this carefully. In order to keep travel down at 160mm, we had to use every last bit of space we could. As such, this long shock kit is designed around a max spring/air can OD of 55mm. This is what Fox and Cane Creek springs are. Unfortunately this means EXT shocks won't fit as well as the Super Deluxe coil. We will update this with Ohlins compatibility shortly. 
CHAIN GUIDE! If you are running the upper chain guide you may find you have to sand a little material off the inner rear corner of the plastic. Check this area to make sure you're good to go before riding it or you'll scratch the paint.
Specifications:
Coil shock recommended
Kit contains upper and lower links
*29" frame fitment details to follow
Recommended spring rates:
| | |
| --- | --- |
| 120 lbs | 400 lbs/in |
| 140 lbs | 450 lbs/in |
| 160 lbs | 500 lbs/in |
| 180 lbs | 550 lbs/in |
| 200 lbs | 600 lbs/in |
| 220 lbs | 650 lbs/in |
View full details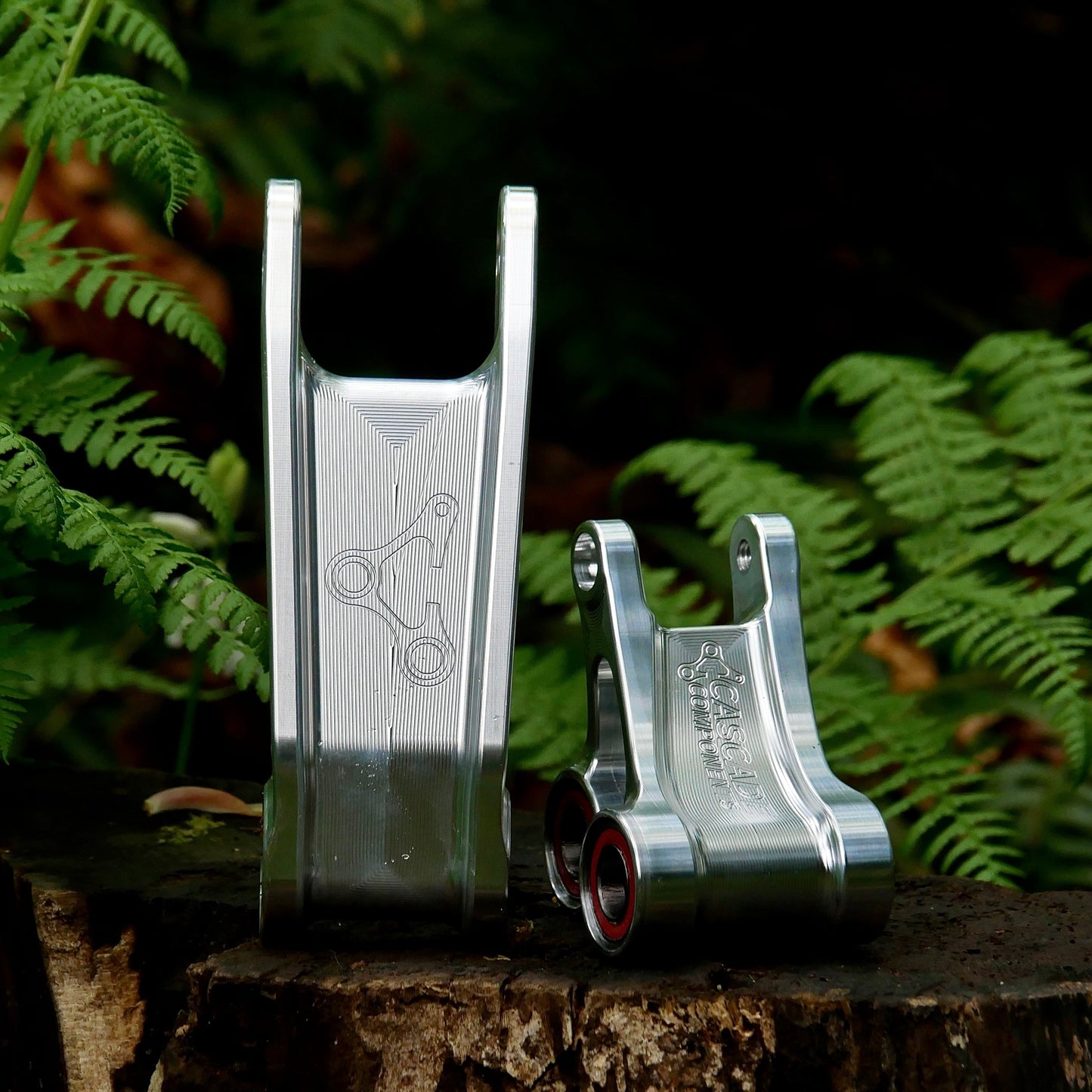 Save Some Dollars and Bundle With A Shock...
Regular price

$1,150.00 USD

Regular price

Sale price

$1,150.00 USD

Unit price

per

Regular price

$999.00 USD

Regular price

Sale price

$999.00 USD

Unit price

per

Regular price

$900.00 USD

Regular price

Sale price

$900.00 USD

Unit price

per