Regular price
$177.00 USD
Regular price
Sale price
$177.00 USD
Unit price
per
Sale
Sold out
22 in stock, shipping now!
Free shipping available within the lower 48!
 "At risk of sounding like I've received a paycheck from Cascade (absolutely not the case), straight up, this is the best chainguide I've ever used, and I've tried many options over the years."

- Dario DiGiulio, Loam Wolf
If you have been looking for unparalleled chain retention for your mountain bike that can handle anything from the bike park to your all-day suffer fests, this guide is the ticket.
Lighter weight than any other full retention guide on the market
Perfect setup every time. Preset geometry so it doesn't rely on your ability to adjust
Unparalleled, Patent pending, chain retention
Non-contact for zero drag
Our patent pending chain guide features the easiest installation and lightest weight of any full retention chain guide on the market.  The guide will keep your chain in place on rowdy bike park laps while keeping the top and lower guides completely contact-free so that you can turn around and pedal all day with no additional drivetrain drag.  Traditionally, a chain guide is thought of as a clunky piece of metal that just adds weight to your bike - not anymore.  Weighing in at only 93/92 grams, this guide is half the weight of some full retention chain guides while offering extraordinary performance.
Compatibility:

Designed to fit frames with ISCG 05 chain guide mounts

Examples of frames that follow the ISCG 05 Standard and fit perfectly are:

Norco Sight
Specialized Enduro (2020 - current)
Specialized Stumpjumper EVO (2021 - current)

Compatibility is only guaranteed on frames that have true ISCG 05 mounts.  To confirm that your bike has true ISCG 05 mounts, please use our template to double check the mounting points on your frame. There are frames out there that list ISCG 05 mounts in their specs but do not adhere to the standard.  Our chain guide fit template can be found here.
Installation of this guide is simple and straight forward.  Riders no longer need to fiddle with a handful of bolts and spacers while trying to get the guide aligned with the chain and clocked correctly.  Our guide doesn't rely on constraining the side of the chain, so positioning in and out isn't critical. If your bike has mounts that are positioned way in board for some reason, ask us about our one-piece spacer option that helps keeps bits from falling on the floor. 
The plastic top and bottom guides are specific to chainring size.  As a result, when you bolt the plastics on, they are in the exact right spot for your chainring size every time. While there is no adjustment built into the guide, if you wish to switch to a different chainring size all you have to do is swap the plastics.  For those of you interested in a little customization, the lower guide/bash is attached using chainring bolts, so you can pick the different color or style that matches your bike the best.
Slap a guide on to your bike and go blast the chunkiest rock gardens and roots around. If you can drop your chain, we'd be seriously impressed.
Specifications:
UHMW upper guide

Delrin lower guide/bash

Weight: 92g (32T), 93g (30T)

Angled leading edges minimize hang ups on impact
Current chainring compatibility: round 32T or 30T (not oval ring compatible)
Includes stainless mounting hardware
Compatibility:

Not compatible with Forbidden frames. Click here

 

for our Forbidden specific chain guide.
View full details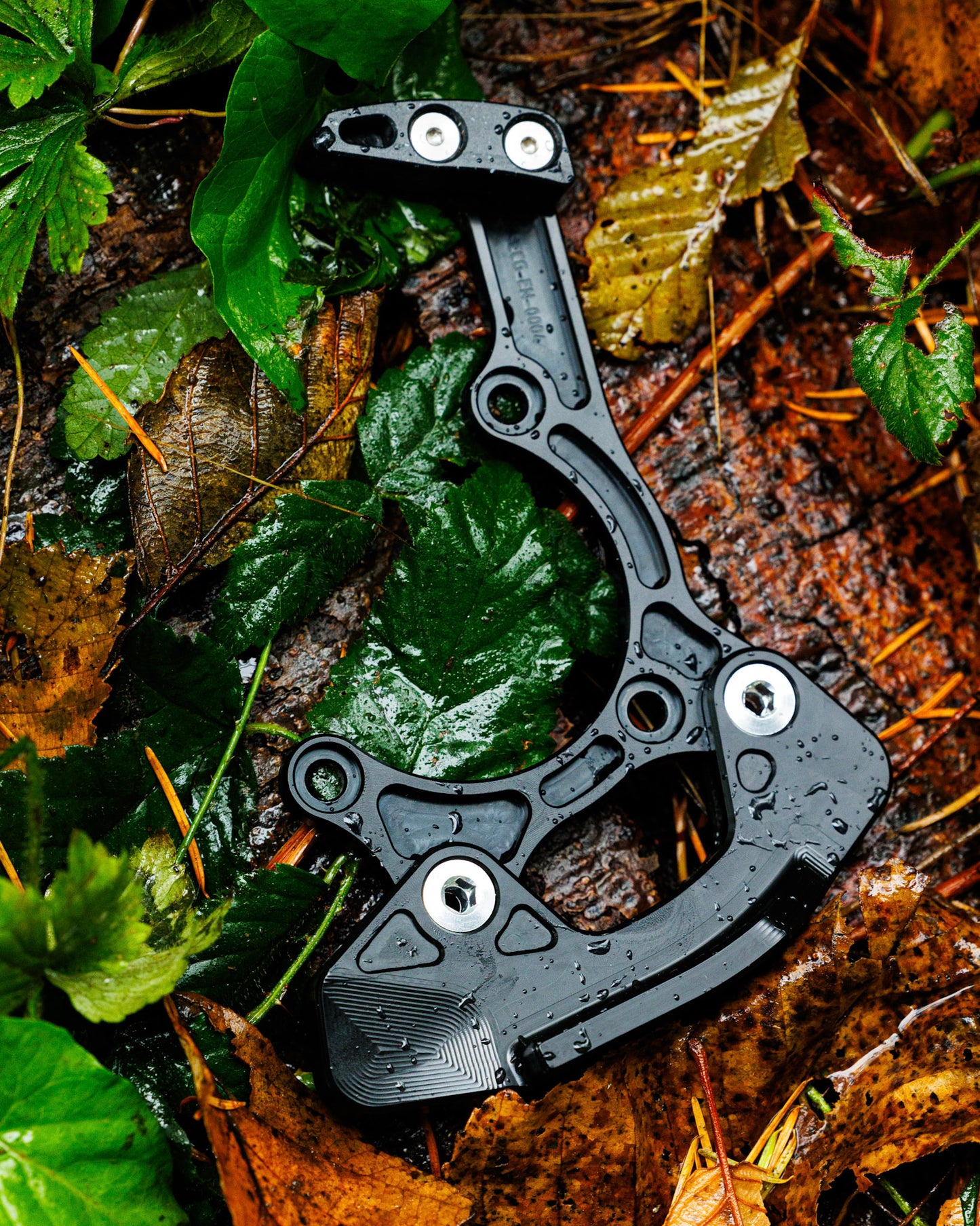 Expert Reviews
"With minimal weight, clean looks and flawless performance, Cascade Components have really knocked it out the park. If you're plagued by dropping chains, bent chainrings, or simply just want the most dialed version of a component that you can get, the Cascade Components Full Guide is simply the best option we've tested." - The Loam Wolf
"Simply put, the Full Guide has worked faultlessly so far. I haven't dropped a chain once (including doing some riding with the derailleur clutch disengaged for testing purposes). It's been quiet, drag-free (there's no chain contact at all), and has shrugged off some sizeable hits, judging by the scars on the bottom of the bash guard. There's not much more I could ask of a chainguide, and while there are plenty of others that would do roughly as good a job at keeping my chain on, the ease-of-use details and low weight do make Cascade Components' offering stand out." - Blister